Micro-Trenching with the trenching machines from LiBa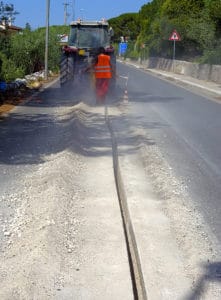 Glass fibre is the future. Data is transmitted much faster than is possible with copper.  Not only the Internet, but also radio, TV, telephone and much more will become much faster through fibre optics. Thanks to the latest technology and processes, it is possible to lay fibre optic cables underground in a very short time. This means, for example, that small excavated trenches of minimal width can be dug and closed again in one day.
Micro Trenching – Lay fibre optic cables even more effectively with a trencher!
Micro Trenching, or Mini Trenching, is a widespread technique that allows for example to lay fibre optic cables quickly and cheaply. The advantages: Micro Trenching causes little damage to the environment, as the construction sites are smaller and therefore take less time, so there are fewer traffic obstructions and less air pollution through exhaust fumes. Projects have also shown that the use of micro-trenching can significantly reduce both costs and working time.
Instead of laboriously digging up the roads with an excavator, micro-trenching simply involves cutting a narrow slot directly at the curb, allowing the micro pipes or fibre optic cables, but also other cables or pipes, to be laid. The name is derived from the English words "micro" and "trenching", which in English means something like "tiny trench". So the name already tells you what kind of technology is involved.
Slide 1

Slide 1

Milling wheel R 500:Micro Trenching for precisely drawn trenches

Glasfaserkabel verlegen mit der GM 4 Raupenantrieb

GM 4 Crawler: This technically mature trencher is an all-rounder

Slide 1

GM 4 Crawler: Dig trenches and then backfill them again

Slide 5

GM R 500: Our GM R 500 milling wheel for laying fibre optic cables

Slide 1

GM 4 Crawler: Dig trenches and lay cables or drainages

Slide 1

GM 4all wheel drive: Trench trencher in line construction, cable construction and for drawing drainage

Slide 1

Spare parts: Backfilling screws in underground cable line construction and for laying fibre optic cables

Slide 2

GM 140 AFH-600: Flexibility is the hallmark of this excavator mounted milling machine

Slide 3

GM 1AS: Cable laying of fibre optic cables and pipes made easy

Slide 4

GM 1800 plough: Ideal for drainage work up to 180cm depth

Slide 5

GM6 ASR: Our answer to extremely hard surfaces and rock
The advantage of Micro-Trenching
Micro-trenching is faster and more efficient, and in general is economically much more localised than conventional civil engineering methods. The first 100 metres can be laid within one morning, which is not possible with an excavator. In this case, a special milling machine will be much faster than an excavator. Because, as already mentioned, it is sufficient for the fibre optic cable if Micro-Trenching cuts narrow trenches into the asphalt. How to do this is explained here.
Fast and cost-effective laying of fibre optic cables

This type of milling is particularly popular in towns and housing estates. The construction sites should and must be kept quite small in order not to disturb the residents and not to obstruct the traffic flow too much. In order to be able to guarantee this, the trench cutters do not have to be too large and immobile. For this reason we have special machines that we offer for this work.
Our favourite machine for such construction sites is the GM 500 R. This is a milling wheel which can be used very effectively in the city due to its light weight of 1200 kg. The light weight also makes it possible to dig perfect trenches in the asphalt, making micro-trenching ideal. A big advantage of this machine is the already mentioned lightness. This enables the customer to attach the machine to a carrier that is also quite light and compact.
Im Einsatz
Im Einsatz
Im Einsatz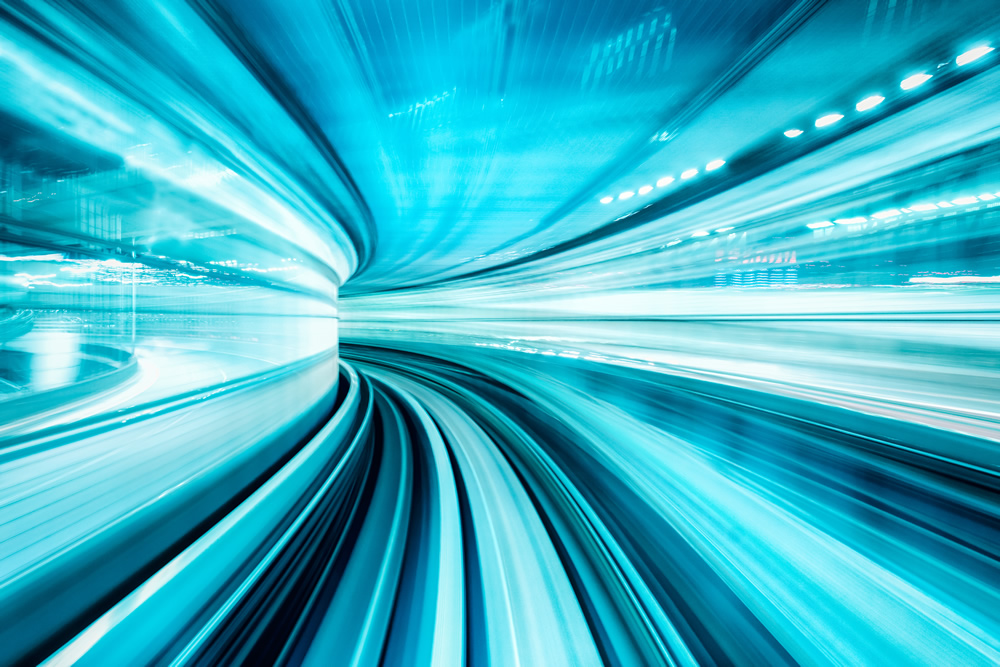 Im Einsatz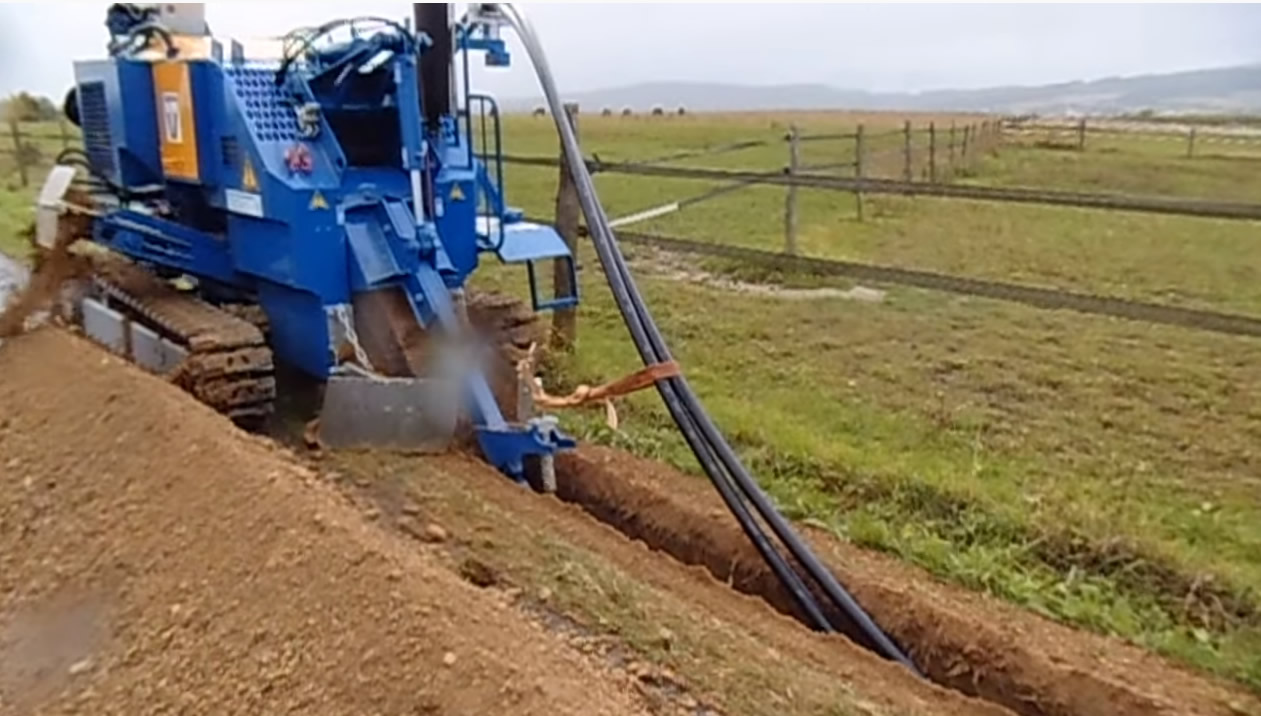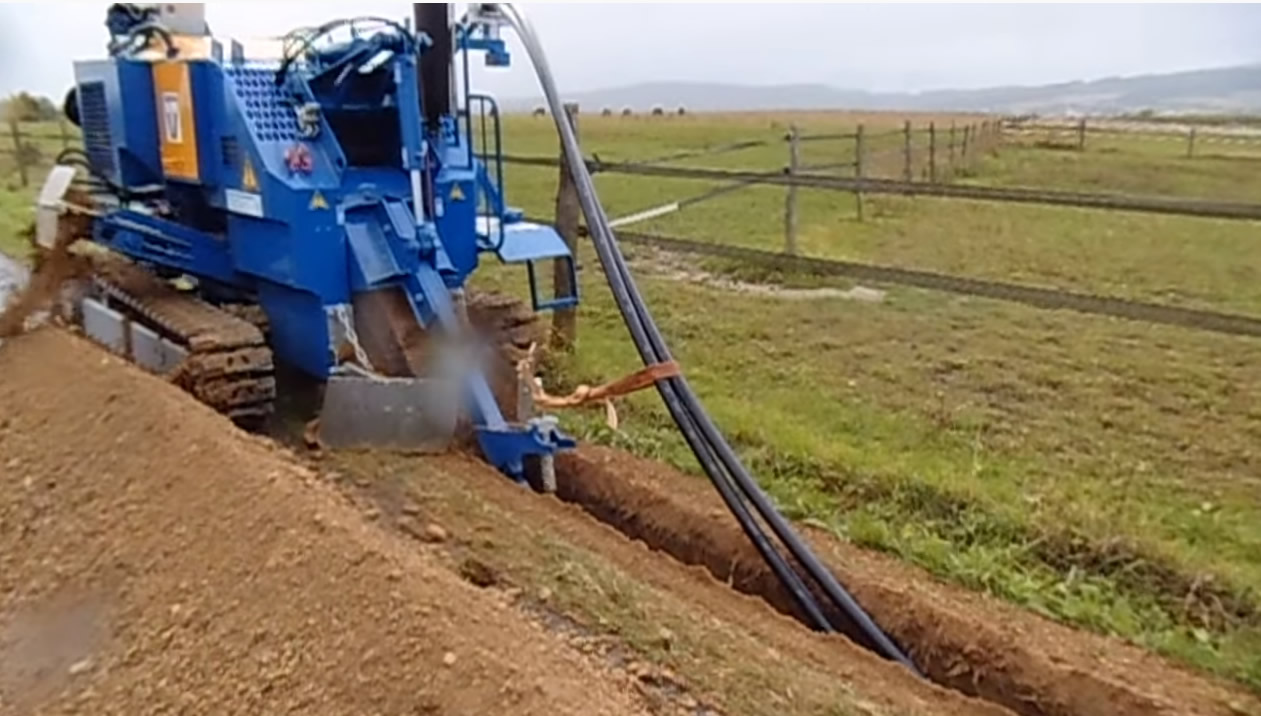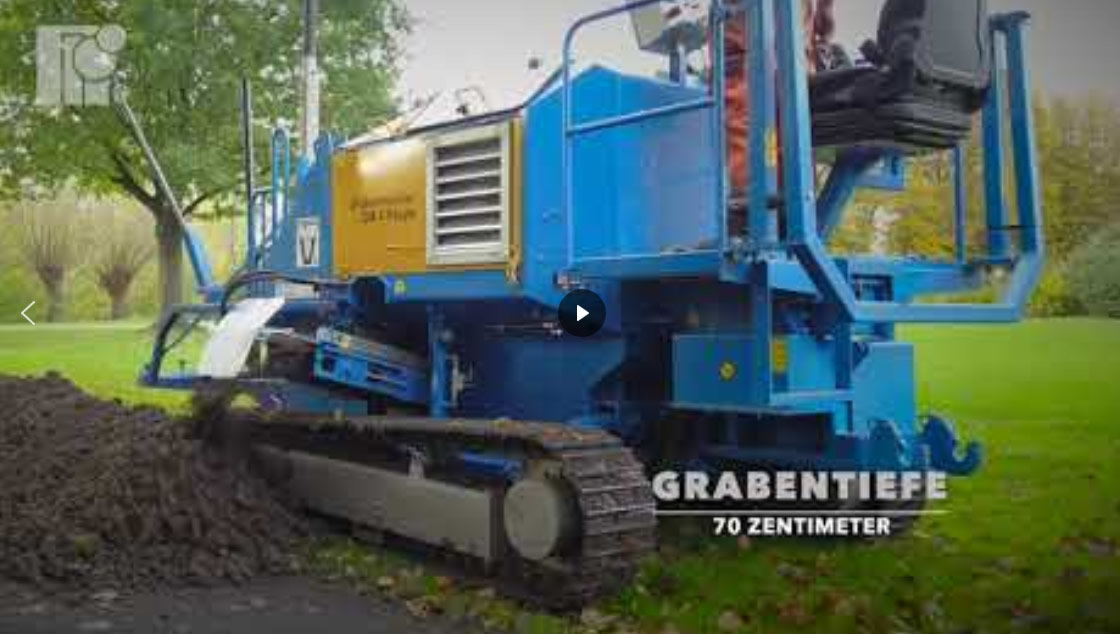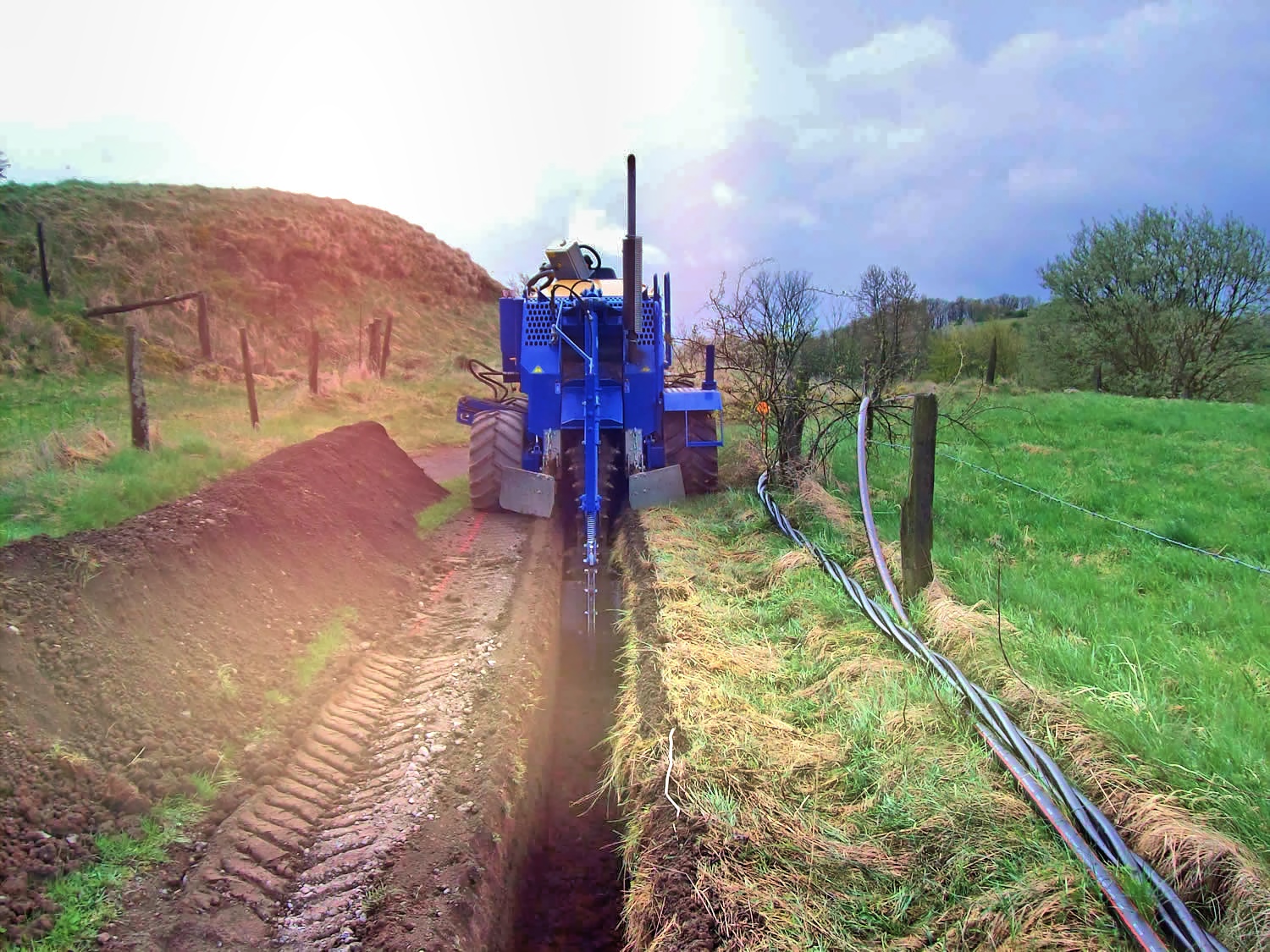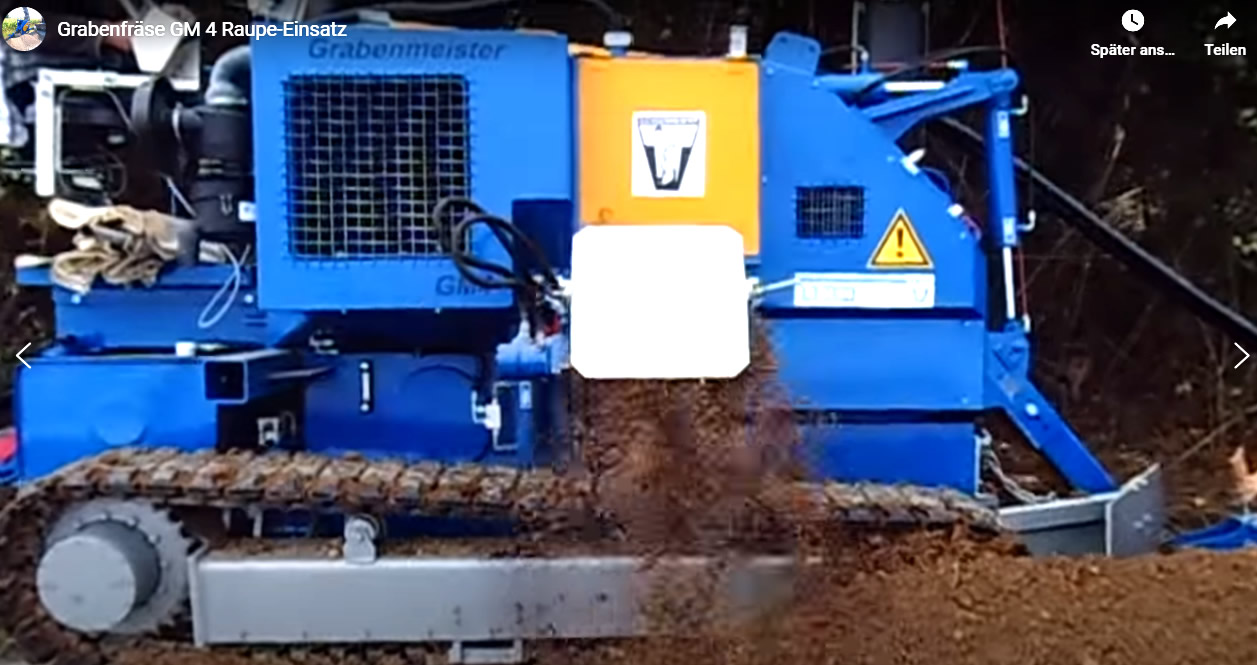 All our machines are produced on site and are made of strong and high quality steel. With the Gm 500 R, we have developed a machine that is designed to simplify work in villages or towns. We have used all our experience to make the trencher as flexible as possible but also robust enough. The result is a machine that is very flexible in cities, because it is very light and can be moved hydraulically. On the other hand it is also robust enough to dig an ideal trench through asphalt and stones. Whether it's fibreglass laying, micro trenching or sewage pipes, our milling wheel will help you on any construction site.
In combination we are happy to offer our GM 4. This is an excellent carrier and is also quite light and agile. Of course the machine can also be used on other carriers. Already a weight of approx. 3500 KG is sufficient to work reasonably with this machine. The hydraulic power should be possible at 80 litres at 300 bar.
What does micro-trenching depend on?
The GM 500 R milling wheel for perfect glass fibre installation
Unlike conventional trenching machines, our milling wheel allows you to work on much narrower and smaller construction sites
Especially when laying fibre optic cables, clean trenches are very important in order not to damage the cable
Even through asphalt and stones, this milling wheel easily cuts a clean trench for optimum cable laying
Another special feature that makes the milling wheel even more flexible is the hydraulic side offset on the rear cross beam
You can therefore move your milling wheel hydraulically from right to left, depending on which side the construction site is on
This is an enormous advantage when they have to mill in inaccessible areas
Thanks to this lateral offset, they can, for example, easily drive on the left-hand side of their carrier while milling on the right-hand side
This is sufficient for micro trenching as well as for glass fibre laying or wider cables
Since micro-trenching is all about digging a small but clean trench, our milling wheel is ideal for this task. Due to the stability and robustness of this machine, perfect trenches, even in asphalt, are no problem. Furthermore, we also offer an installation shaft for cable laying. This enables you to work even faster and more effectively. The cable to be laid is laid through this shaft directly behind the milling machine, so that you can mill and lay the cable in one go. This saves time and therefore costs. It also protects the environment, as you can finish your construction site faster and traffic can start moving again more quickly. This reduces the emission of exhaust gases. For further questions, click here!
Minimum trench, maximum speed!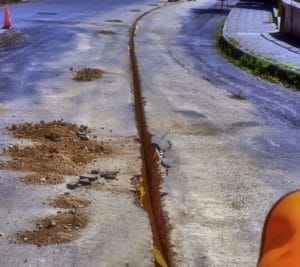 If you decide to go for micro-trenching, you will have some advantages worth mentioning. This procedure is not only more local from an economic point of view but also ecological. As already mentioned, there are some advantages of micro-trenching that are very beneficial to the environment. For example, because the work is completed more quickly, traffic is resumed more quickly, which means that less exhaust gases are released.
In this method, narrow trenches and slots are made in the asphalt using milling technology. This means that only a small trench width and depth is required and enables the rapid completion of glass fibre routes. In addition to micro-trenching, empty conduits are also to be used and expanded above ground.
Trenching is one of several special laying techniques and is usually always used in combination with other techniques. Important for a sensible use is the differentiation of the methods with regard to trench width and trench depth. In addition, the restoration of the surfaces is also important.
Trenching involves digging a trench only up to 30 cm deep into the pavement or road where conventional cable protection pipes or flat liners with the corresponding fibre optic cables are laid. The cable trench is filled in immediately after laying. A frost-proof, temporarily flowable, self-compacting building material is then used as the backfill material. Thus, traffic obstructions are only of short duration.
By the way, there are several trenching methods, namely micro, mini and macro trenching. These differ in the depth and width of the realised milling slots and in the cutting or milling technology used.
Network construction

Overhead line construction

Pipeline construction

Network expansion

Cable installation

Telecommunications
Today LIBA presents itself as a streamlined company in production and administration. With a staff of about 20 employees it is able to offer highly modern and specialised machines and system solutions. These include self-propelled machines, attachments or special machines for a wide range of applications. The export share amounts to 35% of the total turnover.
We would be pleased to give you the opportunity to personally convince yourself of the performance of our "Grabenmeister" trenching machines in our Lingen factory.
With products from LIBA, work is made considerably easier and our customers achieve a decisive improvement in quality through perfected machining processes.
 

With us you benefit from many years of experience and professional expertise also in the field of micro-trenching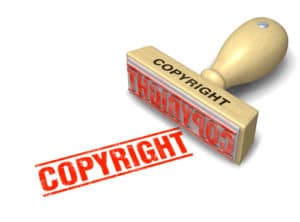 If you have any questions about our trench cutters for cable laying or would like a quotation, please use our contact form. We will deal with your request immediately and contact you. You can also call us at +49 591 – 76 314. We look forward to your visit!